TexasHoops Rewind... JUCO Opening Weekend "Best of"
The Junior College Season has officially tipped off, and TexasHoops/GASO analyst Blue Zertuche was there to catch the action stretching from Region 5 and 14. Here are some thoughts of some of the "Best" performers.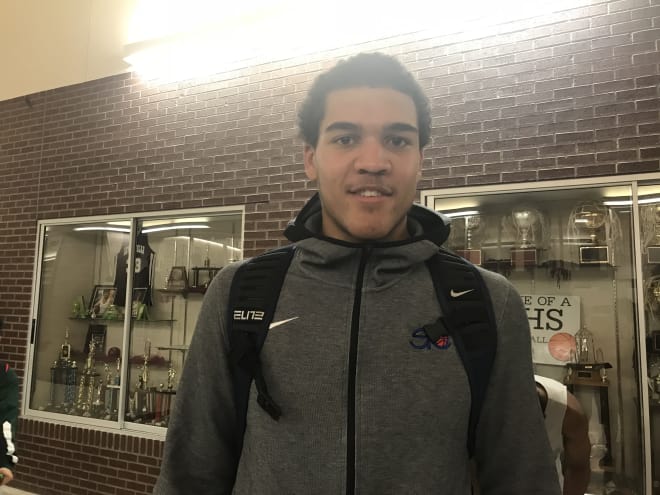 Best of the weekend! Best on the Block
Missouri State of the Missouri Valley Conference got themselves a steal in South Plains Gaige Prim, a 6-foot-8 sophomore post who was the best at his position and best player during the opening weekend. Out of the 13 different teams and out of all of the players that TexasHoops/GASO staff saw, Prim was the most efficient and most impressive. A Division II transfer of West Texas A&M, Prim exhibited skill as he sat on the low block and worked his way by using spin moves and old fashion power basketball against Jacksonville and Panola. The stat line for Prim was jaw-dropping, going 17-for-24 from the field for 70%, and pulling down 18 rebounds against Jacksonville and then 20 more while facing Panola. HIs point totals were 28 in his game against Jacksonville and then adding 19 points in the Panola game. Prim also showed a face game by shooting short-range jumpers and a shooting form that is reminiscent to Bill Cartwright of the NBA, and Prim also converted 13-of-15 free-throws.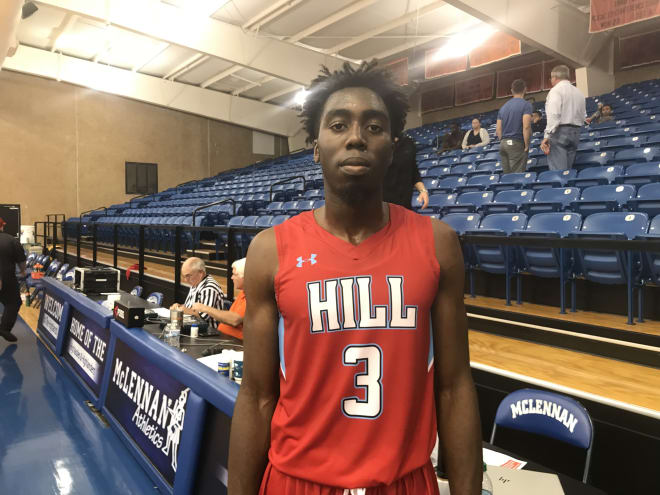 Best Passer/Versatile

Hill's Emmanuel Bandoumel played the role of the unselfish teammate as he passed on shots that most players would take to find wide open teammates. Bandoumel is skilled and plays with bounce so his opponents had to play him with a mindset that once he left his feet it was for a jumper, a lay-in or a pass. Bandoumel has a quick first step to the basket and used his court vision to hit slashing teammates or set up players who were waiting to catch and shoot from the three-point line. The Canadian plays all three guard positions which makes his overall game on a high level of versatility. Bandoumel can handle the ball through pressure, will score from all three levels, will rebound, and defend multiple spots.
Best Scoring Point Guards
There were two players who fell into this category and both are members of the Region 5 North Conference. Out of Grayson College, Jaekwon Carlyle and Hill College's Xavier Johnson were threats with the ball in their hands.
Johnson led Hill with 27 points and to a victory Friday night over Western Texas while hitting big shots to stretch the lead for Hill in the second half. Johnson is fast and creates shots for him and his teammates, but Johnson was filling it up from behind the arc and taking the ball to the rack. Listed at 5-foot-11, Johnson is hard to guard and his speed helps with the separation he needs.
Grayson's lead guard Carlyle is a red-shirt sophomore from Hampton and is a straight line driver. Carlyle was able to get a full set of steam and get to the basket on his opponents as he went up against Angelina and Jacksonville. When Carlyle got rid of the ball and found open teammates, he would dive to the corners or simply find an open area on the court behind the arc to knock down the three-pointer. Carlyle did play off the ball and definitely has the green light. Carlyle had point totals of 31, 30 and 27, connecting on 32-67 shots (13-33 from threes). He is a volume shooter, but drilling nearly 40% of your shots from the arc isn't bad at all.
Best Sleeper
MIles McDougal of Western Texas proved that he was a Division I caliber point guard who could also score the basketball in crunch time. McDougal has always had the reputation of being a tough ball handler that goes back to his days at Duncanville High School. But now, what makes McDougal worth watching is he is more than a distributor, he is a jump shot maker and a penetrating guard who finishes at the rim. McDougal is 5-foot-9 sophomore and has a strong physical frame.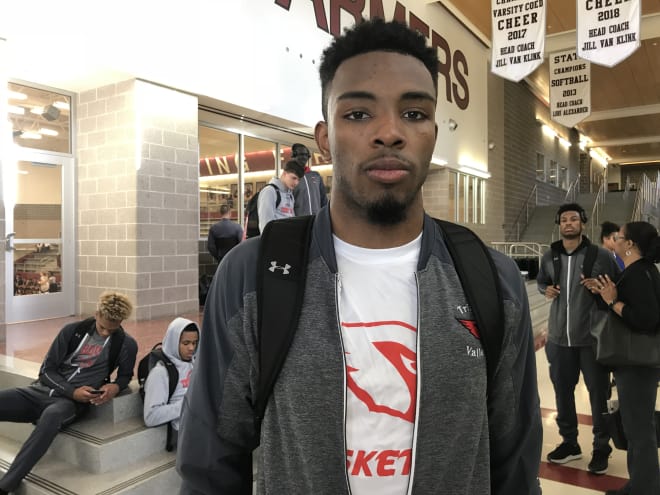 Best Pure Athlete
Game after game Trinity Valley's forward Tyson Jolly had his athleticism on display. The lean 6-foot-4 Baylor transfer used his leaping ability to score above the rim and snagged the ball off the offensive and defensive glass (averaged 14.5 rebounds over two games). Jolly made scoring look too easy as he totaled 73 points in two games. Jolly went for 28 points versus Odessa and he put on a show hitting 45 points in an overtime victory against Missouri West Plains. Jolly hit shots from the mid-range area and knocked in the three ball.
Best Shooter
Buffalo transfer, James Reese who is currently an Odessa Wrangler was drilling threes from all angles against Jacksonville and Trinity Valley. Reese went 5-for-7 in Odessa's first matchup of the weekend while playing Jacksonville and then came back to nail 6-out-8 from behind the arc in an OT loss to Trinity Valley. Reese showed off his sweet stroke from a catch and shoot motion coming off screens and curls. The 6-foot-4 guard moves extremely well for a shooter his size and being an athlete helps. He moves within the offense and head coach Kris Baumann made sure to run plays for his sophomore transfer.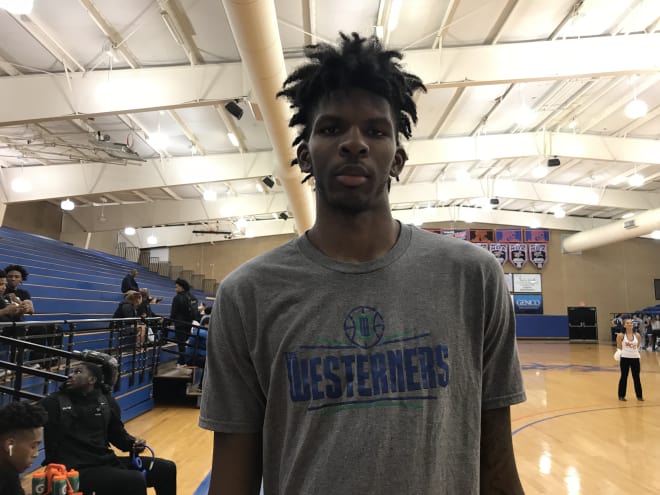 Honorable mention for best rebounder goes to

Could seem obvious that a 6-foot-10 post player would have a chance to win a category of "Best Rebounder", but Western Texas sophomore Johnnie Jones is well deserving. Hard to argue against Prism from South Plains, but Jones is extremely long and used his body and reach to get the ball in and out of his area. Jones is a rim to rim runner and though he didn't do a ton of scoring, he did what most Division I programs are looking for or need, and that is a rim protecting shot-blocker and rebounder. He seemed to catch the ball at its highest point and then passed the ball to his guard to start the offense.
Best of the Rest
Odessa's Adrean Johnson is trying to turn the corner on his collegiate basketball career and if this past weekend was any indication then Johnson is a player with upside because he is talented. Johnson played with instincts, put the ball in the hole from the block and even moved around by scoring off one or two dribbles. Johnson reached double figures both games that TexasHoops/GASO saw and both games he had a double-double. Johnson's two-game totals for Saturday and Sunday were 14 points and 11 reboundsper game. There was something about the red-shirt sophomore during the two-game stretch that makes him a valuable recruit, as long as he continues playing his game moving forward.
Northern Arizona transfer, LaNell Henry also reached double-double status in his two appearances for Panola. Henry, a sophomore from Chicago played off the bounce and played hard on both ends of the court. At 6-foot-7, Panola relied on Henry to man the middle and he produced back to back games of 12 boards and 11, to go along with 15 points and 14. Henry is versatile and can put the ball on the floor and hit the three-pointer.
Other Notes
Best Non-Division I Post - Look no further than Jacksonville College and you will find 6-foot-7 Joel Polius from SAINT LUCIA. Polius is a lean bodied interior player who is active on both ends of the court and scores right around the rim. He brings energy and is rebounder.