On the road with Texas Hoops: Season Opener
Houston - The U.I.L.season has started, and the RCS Sports Annual Season Opener had the Houston-area buzzing as top teams and players were on hand. There was plenty of talent starting with two freshmen Tramon Mark and Isaiah LeBlanc, and the names got bigger after the two class of 2020 prospect introduced themselves to the state.
Jules Moor set the tone for both him and Pearland Dawson season, while Jalon Clark looked to be approaching mid-major status, and Cedrick Alley has been heavily overlooked by recruiters.
MOOR TO THINK ABOUT
Jules Moor of Pearland Dawson had one of Saturday's biggest performances scoring 29 points, adding seven rebounds, two assists, two steals and one block against TexasHoops.com No.9 ranked team in the state, Spring Westfield. Moor hit threes, fadeaway shots and moved swiftly to the rim finishing 11-16 from the field while hitting 3-of-4 from behind the arc.
Moor is currently ranked No.82 in the state (August Rankings) on a Dawson team ranked No.17. He proved that he and his team deserve higher rankings.

Moor has a nice stroke and has a wiry body that grants him access to the paint where he can finish with a soft touch or lay it in around defenders. It appears that through one game, Moor has proven that he is indeed a Division I prospect as his current ranking insist.
ALLEY TAKING HIS GAME TO ANOTHER LEVEL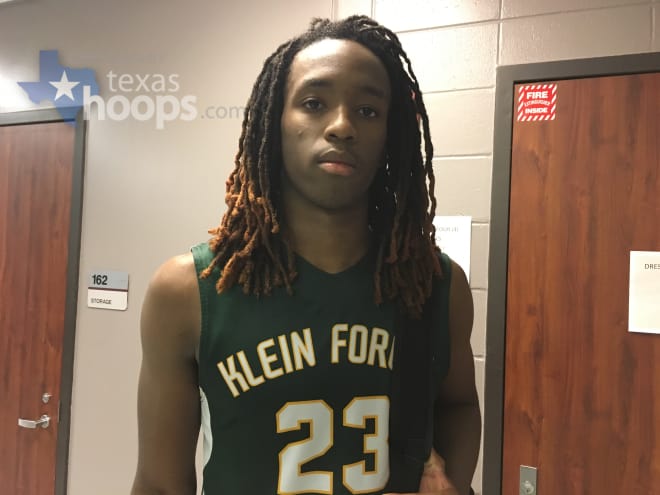 Cedrick Alley has always been a favorite of the TexasHoops.com Staff and the current No.42 overall player in the state played his way into the Top 30 for sure, maybe higher.
In the Klein Forest 10 point victory, 78-68 Alley went for 24 points while grabbing five boards. Where he has improved the most is his perimeter game. Alley went 3-for-5 from deep and hit perimeter shots.
Alley sat on nine offers this fall and visited UTSA, but he says that Boise State has jumped into the mix and he will wait till the spring to sign. Look for more to enter the picture.
Teammate Durey Caldwell looks to have grown an inch or two and his range has gotten better. Standing at a long 6-foot-4, Caldwell drilled 5-of-8 three and went for 17.
HOUSTON CHRISTIAN HAS TRIPLETS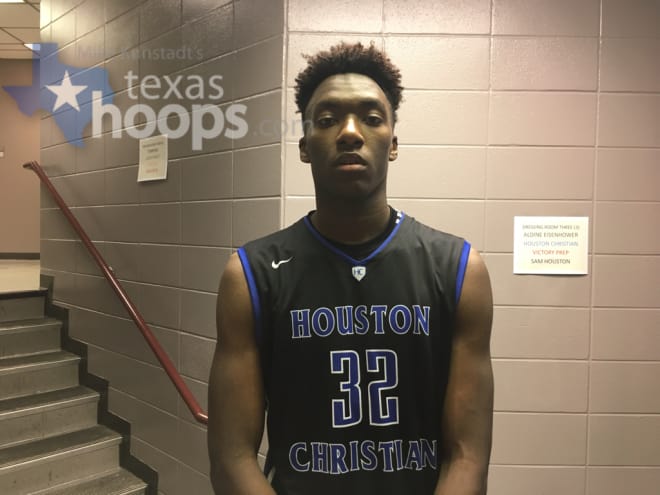 Houston Christian took three overtimes to finish off Dickinson High 102-94. The difference in the game was Houston Christian's Jalon Clark and his 35 points and 10 rebounds. Clark maybe his game be known not only as a slasher but as a reliable three-point threat. Clark was fantastic from start to finish as he stroke long threes and sliced his way to the basket to score. He was a perfect 4-for-4 from behind the arc and went 9-for-11 from the free-throw line. Clark did have six turnovers, but that was mainly due to the organized chaos of the Dickinson defense.
Miller Kopp never got going from the perimeter, but he didn't have to. The 6-foot-6 forward scored many of his 29 points (including a tip-in to send to the third overtime) at the rim, and he pulled down 14 rebounds in 43 minutes of play. Kopp was simply stronger at the basket against the Dickinson guards, and Kopp wasn't bothered by the athleticism or length of his opponents.
The one player that is the most crucial to Houston Christian is 2019 point guard Sahvir Wheeler. At only 5-foot-7, Wheeler pace dictates the offense, and he is consistent with setting up his teammates. For a guard his size, he scores a ton for Houston Christian and will rebound. Wheeler went for 22 points and snatched seven rebounds while dishing out eight assists. Texas A&M took his commitment back in October and Wheeler told TexasHoops.com what it's like to represent the Aggies when he is on the court.
MAKING HIS MARK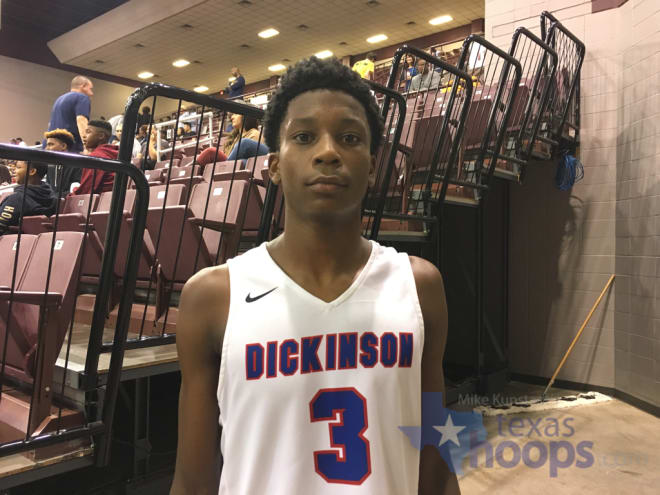 Dickinson's freshman Tramon Mark has the makeup of a top prospect of the 2020 class, and he was a huge part of keeping Dickinson in the game against Houston Christian. The freshman tallied 32 points in 39 minutes and he had plenty of chances to shoot in the high powered offense of Dickinson. Mark wasn't shy from the field shooting 21 times, and going 5-for-14 from behind the three-point line. At 6-foot-3, Mark is a lefty shooting guard and he speeds up and down the court. He can handle the ball on the perimeter and will do a little rebounding.
TOMPKINS PUSHES PAST KINKAID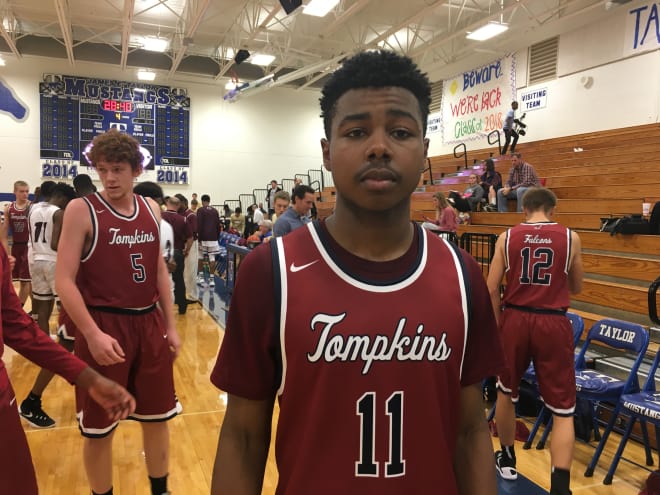 Katy Tompkins was paced by uncommitted senior Josh Williams and his 24 points and junior guard C.J. Washington and his 21. Willaims is a steady combo guard and has shown since last season that he should not be forgotten in the Tompkins talented pool of class of 2018 prospects. Williams converted on 11-14 from the charity stripe and crashed the boards for six rebounds. He is a guard who limits his mistakes and plays within the flow of the game.
Washington is an energetic player for Tompkins and handled the scoring role by using a quick step to the basket. Everything that Washington did was inside the three-point line and he made the most of his 25 minutes to finish 7-of-11 from the field.
LEDEE WAS IMPRESSIVE
It was clear that Jae Ledee was going to dominate the game with his size and he overpowered his competition in Tompkins, and he did by going for 28 points and 11 rebounds. At 6-foot-9 and now 220 pounds, Ledee is more fluid in his game. He was a monster inside the paint, and he was comfortable playing more of an inside role. He struggled from the arc (0-for-3), but that part of his game will eventually com around. What he showed was how valuable around the rim he is. Athletically, LeDee can shut down the middle of the paint to rebound and force opponents to stop short of the basket. Ledee is currently No.10 in the state in the class of 2018, but he showed that he is a skilled power forward with the ability to play with bounce.
LEBLANC INTRODUCES HIMSELF TO THE STATE
Kinkaid also has a reliable scorer in the class of 2020 prospect Isaiah LeBlanc. The 6-foot-2 combo guard was fearless and didn't show any signs of backing down. It was apparent that once he stepped onto the floor that he was not going to be lost among the bigger established names in the game. LeBlanc was quick to the hole and displayed a nice touch away from the basket, but when he beat his defender, he went hard at the rim and didn't mind contact. Finishing the day with 21 points on 7-for-13 shooting was a great way for LeBlanc to introduce himself to the state.
PREVOST BEATS THE BUZZER
Six-foot-7 post Walter Prevost from Aldine Nimitz had one of his more productive overall games that TexasHoops.com staff had ever seen him play, and he ended it in style by hitting a mid-range jumper as time expired for a 55-53 win over Victory Prep.
Prevost played on the block and made moves around the Victory Prep defenders and scored 21 points and totaled seven rebounds.
VANDY, STILL NO.1
Jarred Vanderbilt reminded everyone that he is an ELITE playmaker on both sides of the court and he owns not just the paint but the No.1 spot in the TexasHoops.com upcoming rankings. Vanderbilt has added muscle to his 6-foot-7 frame and looks the part of a pro. Vanderbilt put in 22 points and polished the glass with 15 rebounds. He's skill and his athleticism is game changing, and even in the loss to Aldine Nimitz, Vanderbilt did his part to keep his Victory Prep squad competitive and close to taking the game.
TEXAS HOOPS JUKES AND JUMPERS
The Big 12 backcourt of Texas signee Jase Febres and Iowa State signee Darius McNeil were underachieving considering the hot start from Febres. The 6-foot-4 shooting guard, Febres started by stroking three three-pointers for nine points in the first quarter but went scoreless the rest of the way. McNeil finished with only 5 points on but credit needs to be handed to Pearland Dawson who held all Westfield scorers to 9 points or less and allowed 40 points total.
The combo of Trajan Wesley and Nigel Hawkins combined for 47 points in Cy Falls 10 point loss to Kelin Forest. Wesley was quick to the hole and found his open teammates when he needed to get out of trouble. Wesley led all scorers with 25 points on 9-for-13 shooting. Hawkins totaled 22 points hitting 2-for-3 from behind the arc.
UTSA 2018 commit Tamir Bynum went 50% from the field, converting on 7-of-14 for 19 points. He also dished out three assists.
Unsigned big man Shawn Cornelius had a solid showing in Lamar's 67-59 win over Aldine Eisenhower. Cornelius had eight points on 3-for-4 and added five rebounds. Keep an eye on teammate Myles Burns. The 6-foot-4 wing can get to the basket and will rebound.
Dickinson's guard play of Damon Williams and Jarian Spells scored a combined 33 points and 13 rebounds. Williams hit 19 and added eight rebounds, while Spells chipped in 14 points and five boards.
Tompkins' Kristian Sjolund got lost in the shuffle of the score card due to foul trouble as he was held to zero points and five rebounds. In the 16 minutes of play, Sjolund managed to get off only two shots.
Teammate Jamal Bieniemy was also had four fouls and had to sit. However, Bieniemy faired much better in his 14 minutes of play. He scored 15 points on 5-for 11 shooting.