BIX XII Front Runner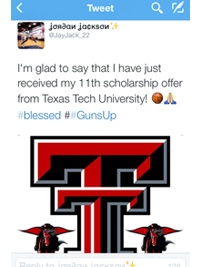 Out of Houston,
Jordan Jackson
put together three weekends in July, that helped him pile up 10 offers. Tulsa, Bowling Green, North Texas, Rice, Houston, Louisiana Tech, The Citadel, Sam Houston State, LIU-Brooklyn, and Texas Tech.
It's obvious to see which offer is the biggest, but there is plenty of reason for Jackson to be excited about the Texas Tech offer.
"I was ecstatic," said Jackson on receiving an offer from Texas Tech's head coach Tubby Smith. "I immediately felt how this was an opportunity to continue the legacy of my mom, but on the men's side."
Jackson's mother is legendary Tech player and WNBA MVP, Sheryl Swoopes. Swoopes led the Lady Red Raiders to a National Championship in 1993.
Having a high profile elite athlete as his mother has benefited Jackson.
"I have learned so much from her and I have her full support. She gets on the court with me and plays one-on-one and makes me better. She teaches me about situations and prepares me for whatever might happen in a game."
While on the traveling circuit, Jackson suited up for T.J. Ford Elite, and got instruction from another NCAA Player of the Year in Ford.
"It's unbelievable to have T.J. as my coach. He has played on multiple NBA teams and has won big time awards. He pushes me and the rest of the team to play at a high level, no slacking. He pushes our basketball knowledge to the max and it just adds to what I have learned from my mom. I am very fortunate to be in the position that I am with two great basketball minds."
On the recruiting front, Jackson is taking his time, but wants to be committed to a college by the start of his basketball season.
"Being offered by Tech is awesome, but I have plenty of other great college programs and coaches in the mix. It's easy to say that Tech is the front runner for a lot of reasons, but when you look at the success that some of the coaches have had, I can't just neglect them. My mom and I will go through each team and talk about what visits will be good for me to take. I'm in no rush to pick a program at this moment, but want to have everything wrapped up by the start of the season."
Of course academics will also play a role for the St. Pius High School standout.
"I would like to find a university that has Sports Marketing or Computer Engineering as a major. On the basketball side, I want a place that has a strong community and fan base. I want to find the school that I am most comfortable with and where I can play and compete. I want to be an impact player where ever I can, and for the coach to know each player's strengths and weaknesses."
Speaking of strengths, one of Jackson's is getting to the rim. Jackson is one of the state's most explosive athletes and does so many great things going to the basket, but he still is working on one part of his game.
"T.J. has worked with me on being a threat from the perimeter. I have to be more than a slasher. I have worked on coming off the dribble and shooting. During this process, I have built up good ball handling skills, but still need some improvement. My explosiveness took my recruitment over the top, but now I am working on having an all around game."
Texas Hoops Analysis:JORDAN is a tremendous athlete that has an explosive first step to the basket. He can fly up and down the court and he understands how to get open without the ball by using angles. He can blow by his man on the perimeter without the ball and get to the basket for a thunderous alley-oop. He has good open court handles and can get through traffic. He has a strong physical body that allows him to take bumps in the lane. He can finish with either hand, and will rebound. He will apply ball pressure and shoots the gaps for steals.