The Allen Eagles beat Pearce behind Gibson and Motta on Wednesday night
Allen's 63-51 victory over the Mustangs of JJ Pearce was fueled by two seniors, 6'5" Ian Motta (2021) and 6'1" Mason Gibson. The pair combined for 45 points against a strong Pearce squad. Gibson has committed to Oakland while Motta will take his talents to Bucknell.
Dean Balo (2023) carried the Mustangs efforts with 21 points, which included five treys. Both Pearce and Allen looks to have strong clubs this year with the Eagles holding down the No.8 6A Rankings by our staff from TexasHoops/Great American Shoot-Out.
The Eagles led start to finish and opened up a 17-12 first-quarter advantage over Pearce. Motta and Gibson attacked the basket throughout the contest, which created havoc for the Mustangs.
Motta repeatedly followed missed shots with put backs and finished with 6 offensive boards. Pearce was 8-of-11 from the line while the Eagles came away with 15 of 24 for 63%. The Eagles punished Pearce on the glass with a big 39 to 25 rebounding advantage. Pearce was really affected inside by the limited play of 6'5" Walker Timme. The senior post spent the majority of the evening on the bench due to foul trouble. Timme finished up with only one basket and fouled out with 6:51 remaining.
Allen's superior depth was evident as they played aggressive man to man defense the entire game with a ten-man rotation.
"Obviously, we're happy to get a win over a well-coached and talented Pearce team," said Allen Head Coach, Joe McCullough. "I'm pleased with the progress we've made over the last couple of weeks, especially on the defensive end. I think we're more of a work in progress on the offensive end right now, as we're relying quite a bit on our two returning starters to score the ball. But I think as we continue to grow over the next few weeks you'll start to see more balanced scoring similar to our teams of the past few years. Maybe, the best aspect of our team right now is rebounding. We've been really good on the glass at both ends."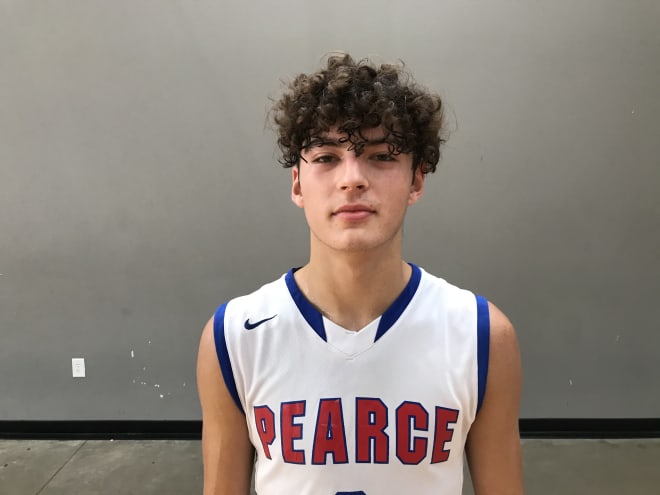 Look for the Mustangs to recover with a talented young group. Balo is only a sophomore and showed vision and ball-handling skills. 6'5" Liam McNeely (2024) struggled early with turnovers, but gained confidence late, putting up 11 points. McNeely is one of the top players in the state in the freshman class.
Pearce's Head Coach Marc Johnson reflected on the loss by stating, "it was a good learning experience for us, especially with our young players. Allen is strong defensively and we didn't match their physicality. We will learn from the loss, which will make us better down the road."